Improvising 'Hackathon'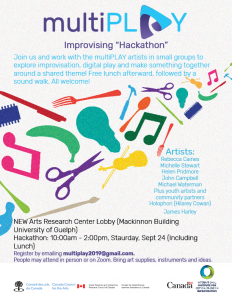 Event Location
University of Guelph
New Arts Research Centre, Mackinnon Building, Guelph, N1G 2W1, ON
---
Event Date and Time
Saturday, September 24, 2022
10:00 am - 3:00 pm
Join us and work with the multiPLAY artists in small groups to explore improvisation, digital play and make something together around a shared theme! Free lunch afterward, followed by a sound walk. All welcome!
NEW Arts Research Center Lobby (Mackinnon Building University of Guelph)
Hackathon: 10:00am – 2:00pm, Saturday, Sept 24 (Including Lunch)
Sound Walk: 2:00pm – 3:00pm
Register by emailing multiplay2019@gmail.com.
People may attend in person or on Zoom. Bring art supplies, instruments and ideas.