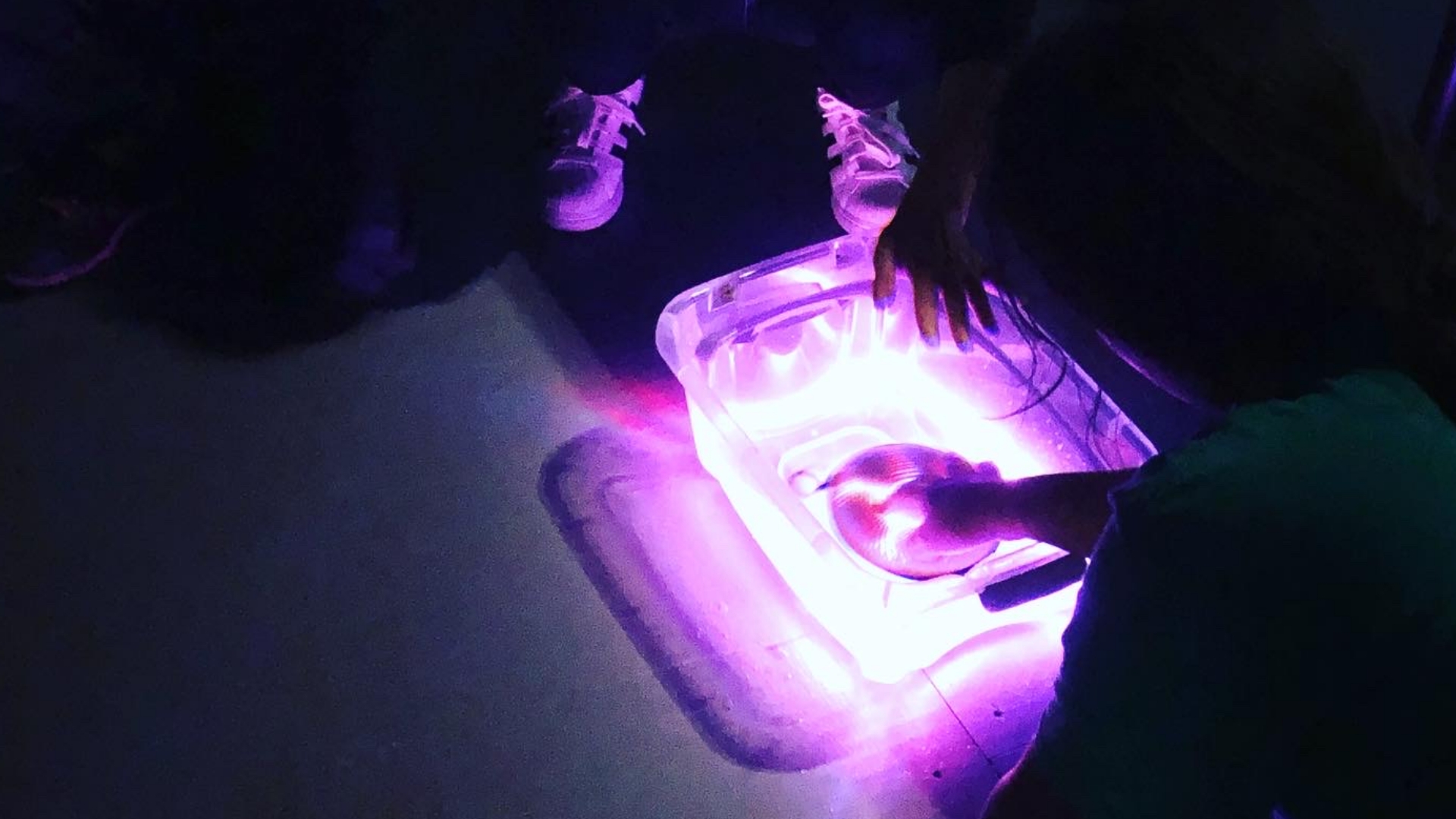 Sonic Blankets
Keisha Mohr, Tanson Pitawanakwat, with imput by family members (especially Shana Mohr), professional support staff, students and postdoctoral research fellows at University of Regina, and University of Guelph
This project (Sonic Blankets) is about making art with sound, and sharing how different people experience sound differently. Participants use musical instruments and objects from their homes to make art and play. For example, some people have used food (a banana), slime, or fidget toys to make sounds and music.
Participants think about the sounds they like, what different sounds feel like, and use their experiences to make art.
The sounds are used to make music and other creative projects, like making art you can wear. For example, someone made a sweater that also plays music, and feels good on your body.  
In workshops, artists and participants have learned how to use recording devices, lots of speakers and microphones, and other technology to make art.
Artists and participants worked together, learn from each other, and find out more about their favourite sounds and art.
Location: Regina, Saskatchewan and Guelph, Ontario
Participants: Artists and youth work together to make art using sounds, toys, and other objects.
The goals of the project are:
To make art about how you feel and about life experiences
To make art that could be calming or exciting
To learn from each other
To learn about how you hear and feel
To find out how sounds make you feel and what sounds feel the best
To share our ideas with other people so they can understand how people hear, feel, and create art in different ways
To use art to teach other people about how we hear and feel
Team Bios:
Support: Gao Yujie 
Youth Artists:
Keisha Mohr
Hi
My name is Keisha Rayne Mohr. I live with something called FASD. Nobody can change that. To be honest, I love living with FASD. It makes me special and different. I still do ordinary things anyone would do. I play hockey, go to school and even get in a little mischief once in a while. That is who I am 🙂
My favourite part about this project is the way my body felt during the project was amazing. I felt like I was in my happy place and actually being understood. It was an incredible experience. I love it.
Tanson Pitawanakwat Acoose
My name is Tanson Pitawanakwat Acoose. I am 13 years old from Sakimay First Nation.  I am a dancer, avid reader and I am home schooled. In Summer 2019, I helped with the 20 Games in 20 Days project by helping to design a game located in a geocache in Whitehorse. While we were there I learned how to use a Zoom recorder and really liked it. In the Fall I started to work with Keisha on the Sonic Blankets project. I liked being part of this project because we made music and sound from different stuff – like fidgets, toys, and other things.  When we first started working together, I remember that I really liked walking around the University with Keisha recording different things together. What I have really liked about this project is learning about recording and changing sounds – like reversing sounds, amplifying sounds, cropping and editing in general. I really like working with voices, and editing them. Actually, I like editing everything.
Students:
Students and postdocs have been supporting the project during the workshops, funded by the International Institute for Critical Studies in Improvisation Students and Postdocs:  Brandon Watson (Faculty of Media, Art and Performance, University of Regina), Stacey Bliss (SSHRC Postdoctoral Research Fellow), Erin Felepchuk and Carey West (Critical Studies in Improvisation, University of Guelph)