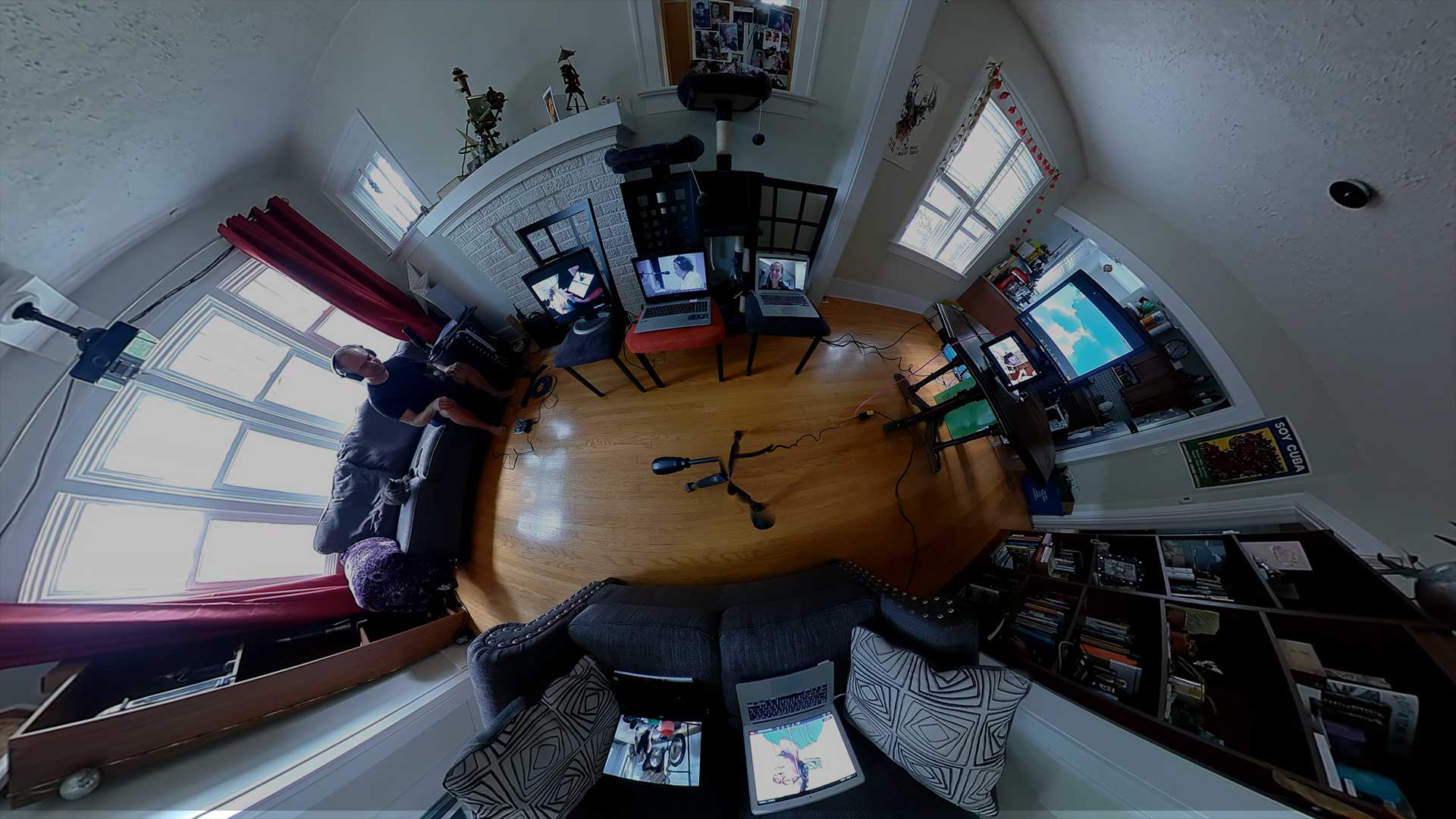 The Remotions (a multiPLAY collective)
John Campbell, Rebecca Caines, Helen Pridmore, Gao Yujie, WL Altman, Norman Adams, Stacey Bliss
This online jamming experiment was initiated by artist and technologist John Campbell. It seeks for new ways to improvise together across distance, inspired by both the pandemic, and our increasingly isolated lives. The Remotions use Jamulus for audio, Zoom for video, live and post-production ambisonics, a 360-degree camera, and a collection of old computers/display devices, bringing everyone into one space to play "together". The performers are all professional improvising artists: Helen Pridmore (vocals), WL Altman (found sound, electronic music, and performance art); Norm Adams (cello and electonics); Gao Yujie (live visuals); Rebecca Caines (digital iPad instruments), John Campbell (digital art, video, found sound), Stacey Bliss (gong and percussion).Tests and experiments are streamed  in full interactive 360 degree footage, to the multiPLAY website, and have been shown in a number of festivals and art galleries.
Team Bios:
multiPLAY Team: John Campbell, Rebecca Caines, Helen Pridmore, Gao Yujie
Guest artists: 
Norman Adams (Cello):
Norman Adams is the Artistic Director of suddenlyLISTEN Music, and is a cellist, organizer, teacher and creator. Norm is a former Principal Cellist of Symphony Nova Scotia (1991 – 2018), has been guest Principal Cellist of the National Arts Centre Orchestra, and has performed chamber, new and improvised music throughout Canada, the US, Europe and the UK, (most recently at La Biennale di Venezia 2018). Norman's passion is creating, performing and presenting new, improvised and electronic music. Through this work he has had opportunities to collaborate with many leading artists including Joëlle Léandre, Gerry Hemingway, Eddie Prévost, Lawrence Casserley, Pauline Oliveros, Sam Shalabi and Marilyn Crispell.  www.normanadams.ca
Stacey Bliss (Gong):
Stacey Bliss is an imaginative (auto)ethnographer, sound artist, and Gong teacher, student, and performer. As a SSHRC postdoctoral fellow in the Faculty of Media, Art, and Performance at the University of Regina, 2019-2021, she is creating a sonic ethnography of/with Gong master-teachers and exploring possibilities of what she calls resonant literacy. In her work, she also queries social and ethical implications of contemplative and improvisational practices with Gong sound. Her interests also include sound studies in education, curriculum studies, multiliteracies, and contemporary forms of ethnography, including performative autoethnography, as well as community-based and arts-based research. Find more at: www.blissresearch.org
WL Altman:
WL Altman is a composer, performer and interdisciplinary artist from Saskatchewan, Canada. His work includes concert music for instruments and voices with live and interactive technology, as well as immersive installations and performance art. Among numerous other creative collaborations, he performs live audio reprocessing with singer Helen Pridmore in the duo Sbot N Wo. Their recording "SONGS" was released in 2016. WL's music and artworks have been presented across Canada, as well as the US, UK, Europe, Japan and Mexico.